JUNE / 2016
...was my big Dresden tour. On this trip I visited mainly Dresden for the first time in my life and was impressed by this gorgous historical city. City witch such painful history. Staying right in the center I used all my free time to walk around taking pictures of the sights. The weather was quite rainy but it made the pictures only more dramatic and interesting.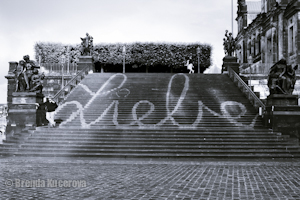 After few days spent here we continued by car to explore the beauty of Saxon Switzerland. Of course I couldn't miss such an opportunity!! In Hohnstein we caught this fantastic fog pouring through the valey, just waiting for count Dracula to appear. We climbed up to Koningstein, exploring this huge fortress high on the mountain. We walked across the Bastei bridge. This super old stone structure up in the rocks with leftover ancient fortress.
And on the Czech side of the park I got rained on in Hřensko :) we caught about 3 hour window in a rainstorm just in time to climbe up to see Pravčická brána, natural stone bridge. We took a hike in Jetřichovice, but this time we got chased by heavy rain in the middle of the climb... Absolutely magical area. Kind of forgotten land with historical buildings of which many are nicely restored and many are showing a big dent of time, deserted and left as they were dozens years ago. All set in a wild landscape of woods, rocsk and meadows. WOW I hope I will get there again.
On the way to Prague we also stopped to see our famous Panská skála (rock formation) that appeared in several movies and ferytales. And right after the return to Prague I got an opportunity to shoot together with Anetta and Dominika the "Three Gracies" shot. Which I think came out just LOVELY!